Something occured to me the other day and that may or may not be obvious to everyone else: Each day's traffic is new.
Think about it. Traffic isn't something that just exists and we join and leave it each day. It actually stops existing every night, and then the next morning it begins fresh again. We create repetitive traffic with our routines and jobs, so it gives the illusion of a constant problem.
We choose every day to create traffic. It is a decision we make to get into our cars (usually alone) and search for a somewhat-less-congested route to work. We are actively contributing to traffic simply by being on the road. Even if you are riding the bus to work, you are still creating traffic, albeit less than if you were driving.
Now, don't get me wrong, I believe that commuting is a necessary part of our current economoy (until we develop the technology and ethic to do our work from remote locations). But I don't believe that traffic has to be as bad as it is, even with the current infrastructure.
You can choose to be victimized by what traffic appears to be; a necessary evil of the economy that can't be avoided which some research group is "thinking about" and some government agency is spending your money to "do something about it".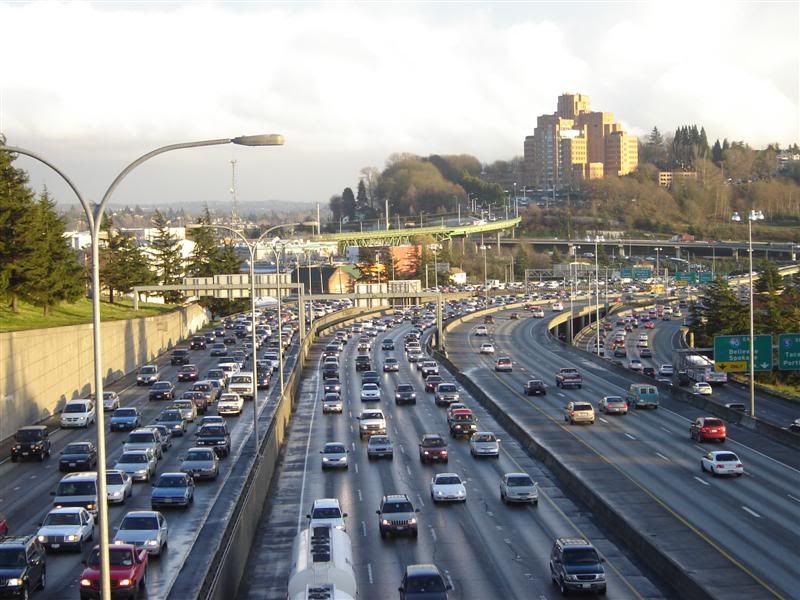 Or you can see it for what it is. Traffic is the result of collective decisions people make to drive at similar times to get to places they want to go, and they try to get there as fast as possible.
Does this realization change the decisions you're going to make about how you commute?
Changing the traffic system takes time and money, and there are things you can do today to change your commute. Whether you decide to take transit, start a carpool, drive at different hours, telecommute, motorcycle, bike, walk, move closer to work, or just drive better alone doesn't matter to us. What does matter is that you think about these choices and make the most of what we've got today.
Because ultimately, it is you that decides to get up in the morning and drive to work and create traffic every day.